Wednesday, August 30 at 1:00 pm

 – 

2:00 pm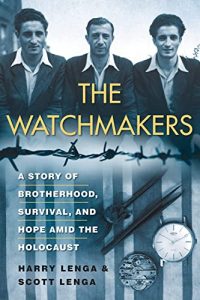 Join us for a virtual event with author Scott Lenga, joining us from Tel Aviv, to discuss The Watchmakers: A Powerful WW2 Story of Brotherhood, Survival, and Hope Amid the Holocaust.
This title was a 2022 National Jewish Book Award Finalist! An extraordinary memoir of endurance, faith, and a unique skill that kept three brothers together—and alive—during the darkest times of World War II.
Harry Lenga was born to a family of Chassidic Jews in Kozhnitz, Poland. The proud sons of a watchmaker, Harry and his two brothers, Mailekh and Moishe, studied their father's trade at a young age. Upon the German invasion of Poland, when the Lenga family was upended, Harry and his brothers never anticipated that the tools acquired from their father would be the key to their survival.
Under the most devastating conditions imaginable—with death always imminent—fixing watches for the Germans in the ghettos and brutal slave labor camps of occupied Poland and Austria bought their lives over and over again. From Wolanow and Starachowice to Auschwitz and Ebensee, Harry, Mailekh, and Moishe endured, bartered, worked, prayed, and lived to see liberation.
Derived from more than a decade of interviews with Harry Lenga, conducted by his own son Scott and others, The Watchmakers is Harry's heartening and unflinchingly honest first-person account of his childhood, the lessons learned from his own father, his harrowing tribulations, and his inspiring life before, during, and after the war. It is a singular and vital story, told from one generation to the next—and a profoundly moving tribute to brotherhood, fatherhood, family, and faith.
Co-sponsored by the Avon Library, The Jewish Historical Society of Greater Hartford, Voices of Hope, Mandell Jewish Book Festival, and the Maurice Greenberg Center for Judaic Studies.
Please register here; Zoom links will be sent out before the event.