Join us for an evening with Tova Friedman, author of The Daughter of Auschwitz"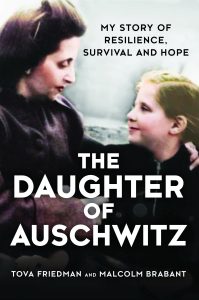 This event will be held via Zoom and is co-sponsored by Voices of Hope and the Jewish Book Council.
Tova Friedman is one of the youngest survivors of Auschwitz. In her memoir, The Daughter of Auschwitz, written with award-winning former war reporter Malcolm Brabant, Tova shared her experiences with the world to honor the victims who were silenced. Tova believes she has a responsibility to this history alive, especially at a time when it is in danger of being forgotten.
"I am a survivor. That comes with survivor's obligation to represent one and a half million Jewish children murdered by the Nazis. They cannot speak. So I must speak on their behalf."
Following the war, Tova and her mother reunited with her father and emigrated to the United States. Tova taught at Hebrew University of Jerusalem and was the Director of Jewish Family Service of Somerset and Waren Counties in New Jersey.
Register for this important conversation today!